Originals: How Non-Conformists Move the World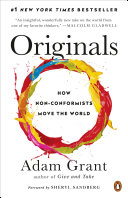 With Give and Take, Adam Grant not only built a groundbreaking new paradigm for success but also cemented his position as one of the most compelling and thought-provoking thought leaders of his time. In Originals, he tackles the problem of changing the world once more, but this time from the standpoint of being unique: choosing to support cutting-edge concepts and ideals that defy convention, combat uniformity, and reject outmoded practices. How can we create novel concepts, regulations, and procedures without putting everything at risk?
Grant investigates how to recognize a good idea, speak up without being silenced, build a coalition of allies, choose the right time to act, and manage fear and doubt. He also looks at how parents and teachers can foster originality in children and how leaders can create cultures that welcome dissent.